Stair Edge Protection System
APAC design and manufacture high-quality stair edge protection systems and custom edge protection system components for more than 10 years.
With our own construction site safety products manufacturer factories, experienced technical team, complete database and high-level quality standards, APAC is your best partner for temporary edge protection solutions.
Products
Be Your Premier Stair Edge Protection Systems Supplier
APAC manufacture and customize stair edge protection systems with form-fitting edges of stairs for over 7 years.
We provide various temporary stairwell edge protection systems with handrails or barriers for you.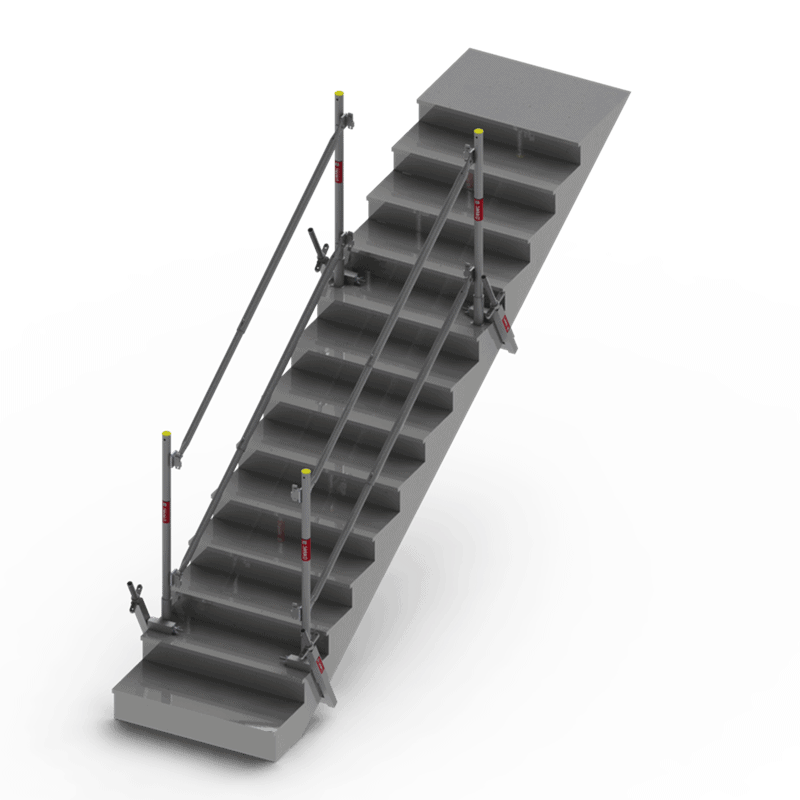 Clamp On Stair Edge Protection System
This system is installed with a simple operation without damaging the stair surface and the process of drilling holes can be eliminated when installing edge protection.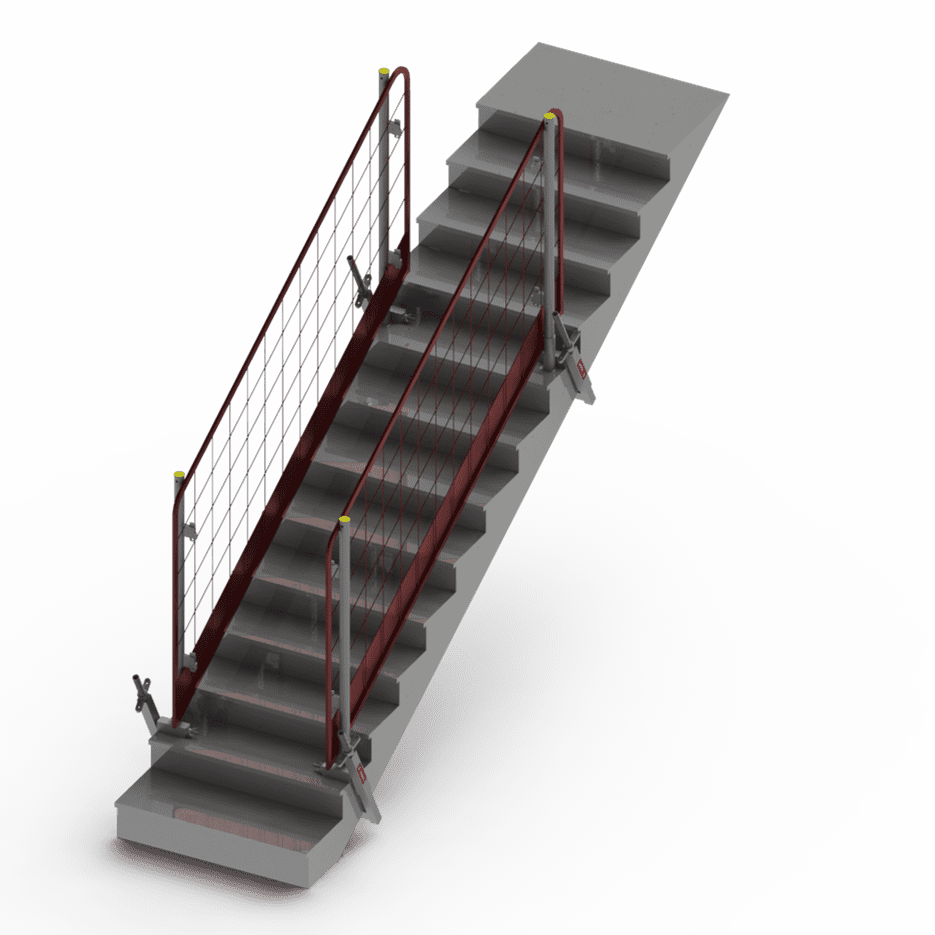 Mesh Barrier Stair Edge Protection System
The stair mesh barrier is designed for stair slopes of 30 degrees and provides continuous edge protection along the staircase and can be raised to allow work to be carried out on the outside of the stair unit.
Socket Base Stairway Edge Protection System
This system is very robust and can be fixed to the stair surface with socket base components, along with the 0.8m-1.5m adjustable link bars per your special requirements.
Why Choose Us
Benefits From Our Success-Oriented OEM/ODM Solutions
Physical Design
Using advanced CAD rendering, we are able to design the systems according to your needs.
Versatile Components
We create versatile components that can meet the specific project needs of various application scenarios.
Surface Treatment
Hot-galvanize, cold-galvanize, paint spray, or matte, rich selection of surface processes for you.
Optional Packaging
Extensive optional packaging pattern, letting you increase brand awareness and bolster the market presence.
factory direct
Your Professional Edge Protection Systems Manufacturer In China
APAC is a full-cycle manufacturer, from raw material to the molding of finished edge protection systems. This allows us to ensure the minimum timescales & lead times, and quality at every stage of production.
3D Display Drawing
Material Incoming Inspection
Automatic production lines
Compliant with EN 13374, AS/NZS 4994, and OSHA Standards
Products Tracking Number
Perform Testing upon your request
Rigorous Production
How We Manufacture The Edge Protection System Of Every Process.
Strict Material Procurement
Cooperating with famous steel brands, We only adopt premium materials to manufacture high-quality edge protection components.
Advanced Cutting Technology
Technicists with more than 5 years of experience and advanced laser cutting machines promise accurate dimensions at every cutting part.
Skilled Frame Welding
Each galvanized edge protection barrier has a sturdy and durable 4mm steel wire mesh panel construction, which complies with AS/NZS 4994 and EN Standard.
Automatic Powder-Coating Line
High-quality powder-coating process makes the edge protection panels corrosion resistant. The color is in your choice from the RAL range.
Strict Quality Test
The tolerance of products is strictly controlled. And we do strict inspections to ensure all components are up to the standard.
Fast Packaging & Shipping
We will pack each portable metal fence panel in polyethylene, and dozens of panels will be packed in customized pallets.
Delivery
On-Time Delivery Service You Can Trust
At our company, we pride ourselves on providing not only top-quality edge protection systems, but also reliable and efficient delivery. We understand that time is of the essence, which is why we always strive to deliver our products to our clients on time, every time. Our team of logistics experts work tirelessly to ensure that our delivery process is seamless and hassle-free, so you can have peace of mind knowing that your project is on track. With our on-time delivery service, you can rest assured that your edge protection system will be delivered exactly when you need it.
Application
General Application For Stair Edge Protection
If you are looking for a fast, reliable custom stair edge protection systems manufacturer in China, APAC will be your best choice.
For more information about our EPS system for your project requirements, get in touch with our advisors today.
Let's Talk
Have any upcoming projects?